The event was well covered by Der Spiegel . The Austrian Ö1 produced an extended radio coverage. Presentations by guests and international participants are available for download!

The Economics of Corruption 2008 - the Announcement
Training and qualifying practitioners, researchers and students in anti-corruption is increasingly requested, utterly needed, but still in its infancy. For many years now we developed a training program that fills this gap, joining the world of theory with the world of practice. An analysis of political, economic and organizational incentives allows participants to obtain a profound understanding of the forces that are at play. Survey techniques and statistical analysis confront theory with data. Interactive tools such as games, poster presentations and case studies involve participants and make them acquainted with today's challenges. Prof. Johann Graf Lambsdorff and his team have spearheaded models for reform that seek to effectively contain corruption while minimizing the adverse effects of penalties and regulation. Participants are introduced into this body of research.

This international event continues to be offered on a pro bono basis. It is directed towards anti-corruption policymakers and practitioners, as well as towards graduate and post-graduate students and faculty in the social sciences.
The Economics of Corruption 2008 - Details

Time: October 4-11, 2008
Program: The program for the training and the symposium is available here.
The event consists of two blocks:
Block 1: training sessions incl. guest trainings, case studies, games and poster presentations (October 5-9)
Block 2: symposium incl. dinner presentation and panel discussions (October 10-11)
- Participation in Block 1 is free of charge, but restricted only to successful applicants (information see below).
- Participation in Block 2 costs EUR 100 (EUR 25 for students). For registration please send an email to Mr. Martin Heinberg. Payment in cash must be made upon arrival.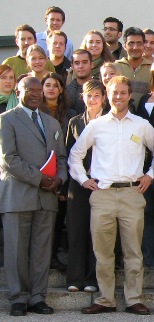 Venue: University of Passau, Germany

Requirements:

Except for graduate students, all external participants in Block 1 must present a poster covering their latest research efforts and/or findings, or their organization's/country's anti-corruption efforts. More information on the poster presentations is available here.

Participation in Block 1/Attendance Fees/Funding:

Prospective participants for Block 1 are asked to apply by completing the application form. The application deadline is August 15, 2008. Please send your application to Mr. Martin Heinberg.

A limited number of 30 outstanding international candidates are allowed to participate in Block 1. Excellence of applications is judged on the quality of the proposal submitted for the poster presentation. No limits are put on methodology or academic disciplines. Posters can be empirical, theoretical, experimental or practical.

Participation in Block 1 is free of charge. However, we do not provide funding for travel or lodging. The course material costs EUR 20.

Participation in Block 2/Attendance Fees:

No application needed. Participation in Block 2 costs EUR 100 (EUR 25 for students). Until September 19 you can make the payment here.

Afterwards only payments in cash will be accepted upon arrival at the event.

Note: Participants in both Block 1 and 2 can apply for the attendance fee for Block 2 to be waived in case of budgetary constraints and should provide explanations in their application.

Exam: A final exam is offered on October 16, 2008, from 2-4 p.m. International students receive 3 ECTS.

Accommodation: The City of Passau provides all ranges of accommodation. A list of selected hotels including prices and contact information is available here (Excel-File). You may also go the webpages of the Passau Tourist Information. Participants are asked to arrange accommodation on their own.

Guest Speakers / Panel Discussants

In alphabetical order

Mr. Kai-D. Bussmann (confirmed)

Prof. Dr. jur. Kai-D. Bussmann is Professor at the Chair of Penal Law and Criminology at Martin-Luther-University in Halle/Wittenberg. He is an authority in business ethics and associated research. Together with PricewaterhouseCoopers, Prof. Bussmann compiles the data for PwC's Global Economic Crime Survey.

Mr. Michael Hershman (confirmed)

Michael Hershman is an expert in security, global intelligence, transparency, accountability corporate governance and counter-terrorism. He consults and speaks to numerous corporate, government and educational organizations annually. Michael has co-authored a book on these subjects titled 'Fear Itself'. He is founder and CEO of the Fairfax Group. The Fairfax Group founded in 1983 has been retained by Governments, Corporations and International Financial Institutions to assist on matters relating to misconduct of senior level officials or entities which they do business with. In December 2006, Mr. Hershman was appointed Independent Compliance Advisor to the Board of Directors of Siemens. In 1993 along with Peter Eigen, Mr. Hershman co-founded Transparency International (TI). Mr. Hershman served two terms on the Board of Directors of TI and is currently a member of the TI Integrity Awards Committee. For the past six years he has served Interpol as a Member of the International Group of Experts on Corruption and for the past 12 years on the Board of the International Anti-Corruption Conference Committee. Mr. Hershman is presently assisting Interpol and the government of Austria to create the first global anti-corruption academy which will be located in Vienna, Austria. Michael Hershman has given hundreds of speeches throughout the world on issues related to transparency and accountability and has provided commentary for numerous television shows on ABC, CBS, NBC, PBS, CNN, CNBC, MSNBC and the Fox News Channel in addition to countless national radio shows. For five years he was the co-host of the Public Radio Law Show. He has been quoted and published in the Wall Street Journal, the New York Times, the New York Post, the Washington Post, USA Today, the Financial Times, the National Law Journal and other print media.

Mr. Wolfgang Hetzer (confirmed)

Dr. jur. Wolfgang Hetzer has been engaged in international security and criminal policy for many years. He worked as a head of division for the German Intelligence Service (BND) in fields of organized crime and money laundering. Since 2002 Mr. Hetzer is head of the "Intelligence: Strategic Assessment & Analysis" division of the European Anti-Fraud Office in Brussels (OLAF) as well as adviser to the Director General of OLAF. He has published many articles of various subjects, including crime, money laundering, commercial law, p olice law, intelligence agencies and European criminal law.

Mr. Declan Hill (confirmed)

Declan Hill is an award-winning investigative academic, journalist, documentary maker and television news anchor. He specializes in reporting on organized crime and international issues. In the last few years he has completed documentaries on the killing of the head of the Canadian mafia, blood feuds in Kosovo and ethnic cleansing in Iraq. He has also made documentaries in Kurdistan, Bolivia, India, Mexico, and Turkey. Mr. Hill has worked for CBC Radio ("IDEAS", "Tapestry", "Dispatches", "The Current", "Iraq Unit"), CBC Television ("the fifth estate", "Disclosure", "Newsworld" and "Newsworld International"), BBC Radio World Service and BBC Radio 4. Currently, Mr. Hill is a Chevening Scholar at Green College, University of Oxford.

Mr. Harald Horenburg (confirmed)

Mr. Horenburg has been working as a sales manager in the paper and packaging industry for 15 years. Currently, he is consulting small and medium-sized enterprises.

Mr. W. Michael Kramer (confirmed)

Mr. Kramer is a consultant and US-licensed attorney who specializes in providing investigative, training and consulting services to international clients in the area of fraud and corruption. Mr. Kramer's clients have included the World Bank, the United Nations, USAID, the European Investment Bank, the Asian Development Bank and eight of the ten largest multinational corporations. He was a senior adviser to the Independent Investigating Committee into the UN Oil for Food Program in Iraq (The Volcker Committee) and has worked on anti-corruption matters in forty countries, including projects in Eastern Europe, Africa, and Asia. He is the author of two texts, numerous training materials, interactive tutorial programs and professional articles on fraud, corruption and money laundering and computer aided-fraud investigations. He was a contributor to and editor of the Fraud Examination Manual for the Association of Certified Fraud Examiners, and authored the legal section of the Certified Fraud Examiner's examination.

Mr. Martin Kreutner (confirmed)

Martin Kreutner studied law at the University of Innsbruck, Austria. In 2000, he was commissioned by the Austrian Federal Ministry of the Interior to build up an anti-corruption service unit. Since 2001, he has headed this unit, the Austrian Federal Bureau for Internal Affairs (BIA). In 2004 he obtained an additional degree as Master of Science in Policing and Public Order Studies at the University of Leicester in the UK. He guest-lectured on international humanitarian law and international law at the German Red Cross and the Ruhr University Bochum, Germany, and also lectured on security and anti-corruption topics at several international academies. Mr. Kreutner is the Austrian Federal Ministry of the Interior's expert for corruption combating, he is a member of Interpol's International Group of Experts on Corruption, IGEC, member of the Executive Committee of the European Healthcare Fraud und Corruption Network, Co-Chair of the EU network of European Partners Against Corruption, member of the Advisory Board of Transparency International - Chapter Austria, juror at the Speyer Quality Competition on Corruption, expert on corruption issues for the World Bank, court expert on general criminology as well as VIP protection, Chairman of the Supreme Disciplinary Commission of the Federal Ministry of the Interior and member of the Federal Appeals Tribunal. He recently edited a book on corruption ("The Corruption Monster), compiling articles from 45 dignitaries and experts from all over Europe and the USA.

Mrs. Juanita Olaya (confirmed)

Juanita Olaya worked for Transparency International for the past 6 years in various capacities: she developed the Global Programme to Curb Corruption in Public Procurement. She has also been Research and Policy Director and more recently she was Manager of the Revenue Transparency Programme and authored the 2008 Report on Revenue Transparency of Oil and Gas Companies.  Before joining TI she worked for the Government of Colombia holding different executive and advisory positions within the National Planning Department, the Ministries of Transportation, of Economic Development and of Finance. She has also undertaken various research and academic activities with the University of the Andes in Colombia and with Harvard University in Cambridge, Massachusetts. During her close to 15 years of experience, she has alternated her public and academic work with private consulting in the areas of government reform, capital markets and anticorruption. Juanita Olaya is a lawyer with a Masters degree in Economics (University of the Andes) and a Masters degree in Public Administration from the Kennedy School of Government at Harvard University. She has published a wide variety of articles in books, academic journals and news papers. She is currently on sabbatical finishing her dissertation on corruption and foreign investment.

Mr. Joe Pistone (confirmed)

Joseph Dominick Pistone, alias Donnie Brasco, is a former FBI agent who worked undercover for six years infiltrating the Bonanno family and to a lesser extent the Colombo Family, branches of the Mafia in New York City. Mr. Pistone was sworn-in as a Special Agent of the FBI in 1969, 7 years before going 'undercover'.

Mr. Harald Schlüter (confirmed)

Dr. jur. Harald Schlüter studied law at the universities of Würzburg, Hannover, Münster and Madrid. He works as a solicitor specialized in tax law as well as commercial and corporate law. Since 2003, he is a lecturer for company tax law at the International School of Management in Dortmund. In 2005 he started teaching civil law at the Institute for Risk and Fraud Management in Berlin and Business Law in Bielefeld. He is author of many articles and papers on corruption issues.

Mr. Friedrich Schneider (confirmed)

Prof. Dr. Friedrich Schneider is Professor at the Department of National Economics at Johannes Kepler University of Linz since 1986. Since the winter term of 1996/7 he has been Vice-President for Foreign Relations at Johannes Kepler University. German-born, he has taught at universities in Europe, America and Australia. His research focuses on the economic theory of politics, financial science, as well as economic, environmental and agricultural policies, centered on the analysis of governmental activities and their impact on economic life.

Mr. Peter Y. Solmssen (confirmed)

Head of Corporate Legal and Compliance and responsible for the Region Americas. Member of the Managing Board of Siemens AG.

Mrs. Yvonne Vlasman (confirmed)

Yvonne Vlasman has got more than 12 years experience in Learning & Development, including Management and Leadership Development. She developed and delivered training on a wide range of subjects, such as compliance, integrity awareness and soft controls. Yvonne has a broad experience in advising national and international clients on fraud risks management. She recently advised a German insurance company on the implementation and training of a compliance program. Yvonne is the author of a book called "Learning & Development for the organization and the individual".

Mrs. Sope Williams (confirmed)

Sope Williams is a lawyer (LL.M.), lecturer in law at the University of Nottingham, U.K., and a Member of the Public Procurement Research Group. She is an expert in the use of public procurement systems and regulation to fight corruption, with special expertise in blacklisting and debarment mechanisms.

How to reach us?
The City of Passau is located at the German-Austrian border, about 150 km east from Munich. It can be reached by train from Munich International Airport, Frankfurt International Airport, Linz International Airport and Vienna International Airport.
The venue is in walking distance from the railway station.
Maps as Downloads (PDF)
Campus Map
Basic literature
Lambsdorff, J. Graf (2007) "The New Institutional Economics of Corruption and Reform: Theory, Evidence and Policy". Cambridge University Press
Further literature
Rose-Ackerman, S. (1999), Corruption and Government. Causes, Consequences and Reform, Cambridge: Cambridge University Press).
Shleifer and Vishny (1993), "Corruption." Quarterly Journal of Economics.
Andvig, J.C. and O.-H. Fjeldstadt (2000), Research on Corruption. A Policy Oriented Survey, Chr. Michelsen Institute and Norwegian Institute for International Affairs. pp. 5-20, 66-73. To be obtained online here.
Further literature, case studies and course material will be mailed to accepted participants.